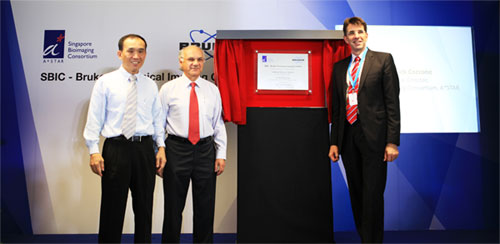 (From L-R) Mr Lim Chuan Poh, Chairman, A*STAR, Prof Patrick J. Cozzone, SBIC executive director, A*STAR and Dr Wulf-Ingo Jung, president, preclinical imaging division, Bruker Biospin
Singapore: Bruker, global manufacturer of scientific instruments for molecular research, has opened its Preclinical Imaging (PCI) Centre in collaboration with the Singapore Bioimaging Consortium (SBIC), a research institute under the Agency for Science, Technology and Research (A*STAR).
Located within SBIC's premises at Biopolis, the SBIC-Bruker PCI centre is the first facility of its kind in Asia and only the second in the world to be opened by Bruker. The company's first pre-clinical imaging centre is located in Massachusetts in the United States. The new SBIC-Bruker PCI centre will provide demonstration, training and applications support for Bruker's preclinical portfolio and multi-modal imaging platforms.
Through the new SBIC-Bruker PCI Centre, A*STAR's research institutions will be able to leverage Bruker's advanced imaging platforms to boost their research efforts while the company can tap on SBIC's talent and imaging capabilities. Besides gaining access to SBIC's talent and imaging expertise, the SBIC-Bruker PCI Centre will allow Bruker to foster closer collaborations with SBIC's partners such as those in the clinical and academic community, as well as the pharmaceutical companies with research operations in Singapore.