Indian and South Korean pharma bodies sign MoU to explore business opportunities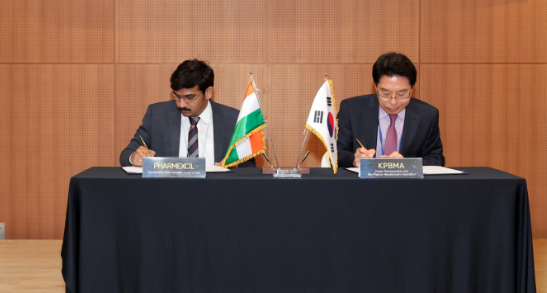 Image credit: twitter
The Indian Drug Manufacturers' Association (IDMA) and the Korea Pharmaceutical and Bio-Pharma Manufacturers Association (KPBMA) have recently signed a Memorandum of Understanding (MoU) to share their common goal of promoting cooperation in pharmaceutical sector.
Pharmaceuticals Export Promotion Council of India (Pharmexcil) has also signed an MoU with the KPBMA to cooperate with each other on creating an innovative ecosystem for mutual growth among pharmaceutical bio-tech companies, fostering outstanding human resources in the pharmaceutical bio sector through cooperation between industry and attracting promising companies and strengthening cooperation for technology development.
These agreements will further deepen the co-operation between both the sides and will boost bilateral trade and investment between both the countries.
To mark 50 years of diplomatic relationship between India and Republic of Korea (ROK) this year, the Embassy of India organised the India-Korea Pharma Business Forum-2023 in collaboration with ROK Ministry of Food and Drug Safety (MFDS), Korea Pharma and Bio-pharma Manufacturing Association (KPBMA), Pharmexcil, Chemexcil and IDMA. 3SMG Events, and Kyungyon Exhibition Corporation (KEC) also co-partnered with the Embassy in organising this event, where the MoUs were signed.
Sign up for the editor pick and get articles like this delivered right to your inbox.