Nanoparticles offer tremendous potential for targeted drug delivery, enhanced therapeutic efficacy and precise disease targeting. Moreover, the global market for nanoparticle drug delivery is projected to grow significantly, reaching $123.6 billion by 2025, according to BCC Research. Let's deep dive into the fascinating field of nanomedicines, advancements and challenges in nanoparticle drug delivery.
At the peak of COVID-19, the pharma industry's push for an mRNA drug for emergency use became known as the most notable intervention in recent history. The success of mRNA vaccines can be attributed to the utilisation of lipid-based nanoparticles, which played a crucial role in enabling this groundbreaking achievement and bolstering the field of nanomedicines.
Nanoparticles, ranging from 1 to 100 nanometres, are smaller than human hair, which is typically several hundred micrometres in diameter. There are three main types commonly used, polymeric nanoparticles, liposomes, and lipid nanoparticles (LNPs). The majority of the research at present is focused on LNPs.
Encouraged by the success of Pfizer and Moderna's vaccine, several other companies and researchers are working to develop different modes of drug delivery using nanoparticles. One such company is Australia's Vaxxas. The firm has developed a platform called 'Nanopatch' that utilises lipid nanoparticle-coated projections to deliver vaccines directly to immune cells in the skin, potentially improving vaccine efficacy and eliminating the need for refrigeration during distribution. In March 2023, the firm reported positive phase 1 results from nanopatch, paving the way for needle-free/self-administered vaccines.
Australian biotech behemoth CSL is also trying to get on board with this technology. In 2022, CSL, partnered with US-based Arcturus to develop and commercialise infectious disease vaccines using Arcturus' self-amplifying mRNA technology and LUNAR lipid nanoparticle delivery platform.
Beyond vaccines, the realm of needle-free treatments is expanding, with researchers even exploring alternatives for managing diabetes. In 2021, researchers at Nanyang Technological University, Singapore, developed insulin nanoparticles that could serve as an oral alternative to insulin injections for diabetic patients, with pre-clinical studies showing increased insulin levels in the blood shortly after ingestion.
Gene therapy goes nano
Gene therapies are the most widespread of nanoparticle-based drug delivery, as evidenced by the fact that 65 per cent of clinical trials using nanoparticles are focused on cancer, according to ScienceDirect.
However, a couple of United States Food and Drug Administration (US FDA) approved nanomedicines for cancer drugs already exist. The first LNP based genomic medicine, US-based Alnylam's Onpattro, was approved in 2018, marking a significant milestone in the field of nanomedicine. This approval demonstrated the capability of nanomedicine to address the challenges of nucleic acid delivery and make it available for patients. Nucleotide-based drugs have immense therapeutic potential but pose specific delivery challenges, which nanoparticle drug delivery could overcome.
In March 2023, researchers at Hokkaido University in Japan developed a new delivery system for CRISPR-Cas9 based on LNPs, which significantly increases the efficiency of in vivo gene therapy. This breakthrough was published in the Journal of Controlled Release.
In April 2022, researchers from the National University of Singapore, in collaboration with other institutions, demonstrated the potential of nano-sized vesicles released by red blood cells for delivering immunotherapeutic RNA molecules to suppress breast cancer and metastasis.
South Korean firms are at the forefront of this revolution and announced several partnerships to propel LNP technology for drug development. In January 2023, US-based Oncorus and Daewoong from Korea initiated joint research to evaluate formulations of mRNA encapsulated in Oncorus' proprietary LNPs. In April 2022, Korea-based GC Biopharma and American firm Acuitas Therapeutics entered into a development and option agreement for Acuitas' LNP technology, focusing on the vaccine and therapeutic development.
American drug major, Pfizer's COVID-19 vaccine, Comirnaty also used Acuitas' LNP technology. Another South Korean pharmaceutical major, Yuhan Corporation collaborated with the University of Cincinnati to develop mRNA-based cancer immunotherapy using LNP technology.
US-based Genevant Sciences is a leading company in LNP technology. Their LNP platform, which enabled the regulatory approval of Alnylam's ONPATTRO, has wide-ranging applications, including vaccines, therapeutic protein production, and gene editing. In 2021, Japanese drug major Takeda partnered with Genevant Sciences for the development and commercialisation of LNP-delivered nucleic acid therapeutics targeting previously inaccessible drug targets in hepatic stellate cells to treat liver fibrosis.
In 2020, China Grand Pharmaceutical and Healthcare Holdings (CGP) engaged in the development of LNPs for nucleic acid-based therapeutics and formed a strategic cooperation and product licence agreement with Belgium-based eTheRNA immunotherapies to establish a joint venture company, AuroRNA Biotech, in China.
Taiwan Liposome Company (TLC), based in Taiwan, is another firm in the region that focuses on developing lipid-based drug delivery systems, including LNPs, for enhancing the delivery of therapeutic agents in oncology and infectious diseases.
Australian firm EngeneIC is a biopharmaceutical company focused on developing a proprietary EDV nanocell platform for the targeted delivery of chemotherapeutics and functional nucleic acids in cancer. The EDV is a first-in-class cyto-immunotherapy platform targeting the tumour directly. The firm has successfully completed a phase IIa clinical trial with their EDV nanocell platform for targeted cyto-immunotherapy in recurrent, metastatic pancreatic cancer.
Crossing the blood-brain barrier
Recent advancements in nanoparticle drug delivery have shown promising results in crossing the blood-brain barrier, a significant challenge in treating neurological diseases. Through innovative techniques, nanoparticles have been engineered to effectively deliver therapeutic agents to the brain, opening up new possibilities for targeted treatment of conditions such as neurodegenerative diseases and brain tumours.
In April 2023, US-headquartered BIORCHESTRA with an R&D base in South Korea focused on rare and degenerative diseases within the Central Nervous System (CNS), announced significant progress in its lead drug programme - BMD-001. BMD-001 utilises a proprietary brain-targeting RNAi Nanomedicine (BTRiNTM) platform, combining targeted cell delivery capabilities and proprietary RNA chemistries.
On March 2, 2023, researchers at South Korea's Pohang University of Science and Technology (POSTECH) announced the development of a nanomedicine technique for administering electrical stimulation to the brain without the need for implanted electrodes. They used piezoelectric nanoparticles that respond to ultrasonic waves and emit nitric oxide, temporarily disrupting the blood-brain barrier and allowing targeted delivery of therapeutic agents. This approach shows promise in non-invasive treatment for brain diseases.
On the same day, researchers from Mount Sinai Health System and Memorial Sloan Kettering Cancer Center, USA announced the development of a drug delivery approach using nanoparticles to deliver anti-cancer drugs more effectively and target brain tumours in children. This technology enhances drug delivery to specific tumour locations while sparing normal brain regions, improving effectiveness and reducing toxicities.
Additionally, in 2020, researchers from the University of Michigan, USA developed a synthetic protein nanoparticle capable of passing through the blood-brain barrier in mice. This nanoparticle holds the potential for delivering cancer-killing drugs directly to malignant brain tumours.
Nanorobots
Nanorobots, with self-propelling and navigating capabilities, have made significant strides in drug delivery and therapy, particularly in inaccessible body tissues.
In 2022, researchers at Daegu Gyeongbuk Institute of Science and Technology (DGIST) in South Korea developed a technology to produce over 100 microrobots per minute that can be disintegrated into the body. This advancement is expected to enhance regenerative medicine, including stem cell delivery.
Additionally, scientists at the Tokyo Institute of Technology have been investigating the use of gold nanoparticles, specifically gold nanoplates, for photothermal therapy in cancer treatment. These nanoparticles can be heated with near-infrared light, selectively targeting and destroying cancer cells while minimising damage to healthy cells.
Challenges
As there are advantages we find issues as well that need attention. The challenges in nanoparticle drug delivery include scaling up manufacturing processes, ensuring stability during storage, achieving targeted delivery to specific sites and evaluating potential toxicity.
"Two key challenges to the success of nanoparticle drug delivery are the excipient and the ability to scale up for commercial production. We are addressing these challenges by applying our knowledge and successes in the development of long-acting microparticle products to the development and manufacturing of nanoparticles," said Dr Tom Tice, Senior Director, Global Strategic and Technical Marketing for Drug Delivery, Evonik Health Care, Germany. Evonik is a leading contract development and manufacturing organisation (CDMO) for advanced drug delivery and one of the leading players in LNP delivery.
Working with phospholipids extracted from natural sources is, however, not easy. Due to the presence of a wide range of unsaturated fatty acids in natural phospholipids, they produce a variety of components in mixed ratios that could vary from batch to batch. The resulting differences in physical, chemical, and biological properties make it difficult to develop robust, reproducible, controlled-release drug delivery systems.
"Modern synthetic phospholipids can help overcome this hurdle. They are easier to standardise, being single, well-defined molecules. Under suitable conditions, they permit a controlled adjustment of physical, chemical, sustained release and biological properties especially where more physically stable liposomes with increased stability in blood plasma or phospholipids with more powder-like properties are desired. Since they lack antigenic properties, they can also be metabolised easily in the body. They are less toxic and have a higher degree of solubility, thus making them better candidates for liposomal-based drug delivery systems, especially for parenteral administration and inhalation dosage forms," said Arun Kedia, Managing Director, VAV Life Sciences, India. The firm provides solutions in the field of pharmaceutical ingredients and specialises in making Lecithins and Phospholipids for the cosmetic, nutrition and pharmaceutical industry.
Regulation
Governments around the world are aggressively supporting capability and capacity building in nanomedicine production.
In 2022, the US FDA issued new guidelines related to nanotech in pharmaceuticals. In addition to the standard regulatory and pharmacopoeia requirements for drug products (particularly parenteral products), the United States FDA has provided additional information through issued guidelines on products involving nanotechnology and nanomaterials.
Sharing his views about the new US FDA guidelines, Dr Tice said, "With respect to what size is 'nano', the FDA will ask: (1) whether a material or end product is engineered to have at least one external dimension, or an internal or surface structure, in the nanoscale range (approximately 1-100 nm). In addition, because materials or end products can also exhibit related properties or phenomena attributable to one or more dimensions outside the nanoscale range of approximately 1-100 nm that are relevant to the evaluation of the safety, effectiveness, performance, quality, public health impact, or regulatory status of products, the FDA will also ask: (2) whether a material or end product is engineered to exhibit properties or phenomena, including physical or chemical properties or biological effects that are attributable to its dimension(s), even if those dimensions fall outside the nanoscale range, up to one micrometre (1,000 nm)".
Even India has been making efforts to support the growth of nanopharmaceuticals, which offer the potential for safer and more efficient utilisation of current medications. Three years back, India released its 'Guidelines for Evaluation of Nanopharmaceuticals' in 2019. These guidelines provide a framework for the production and regulation of nanopharmaceuticals, supporting the advancement and adoption of this innovative field in the country.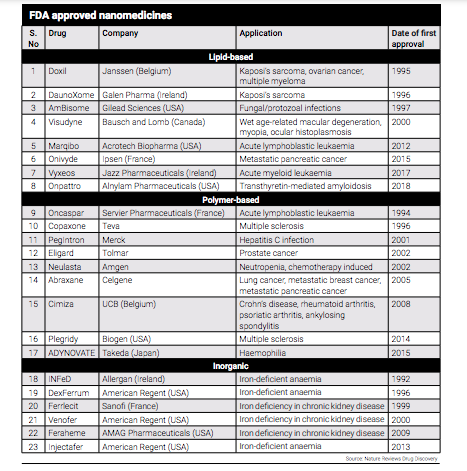 The guidelines apply to the nanopharmaceuticals in the form of finished formulation as well as Active Pharmaceutical Ingredient (API) of a new molecule or an already approved molecule with altered nanoscale dimensions, properties or phenomenon associated with the application of nanotechnology intended to be used for treatment, in vivo diagnosis, mitigation, cure or prevention of diseases and disorders in humans.
The guidelines facilitate translational research in line with the regulatory requirements. Guidelines also facilitate the decision making by regulators during clearances to newer products based on nanotechnology and similarly to researchers to get clearance for their products to launch in market. End users also benefit from the quality assured anticipated products in the market in accordance to the guidelines. The guidelines pave the way for significant benefits through such cutting edge technology and contribute to the mission of "Affordable Health Care for All".
However, experts believe incentives for lipid manufacturers and nanotech drug delivery research will further drive innovation and opportunities in pharma. For example, the PLI (Production Linked Incentive) scheme for the pharmaceutical sector in India mainly focuses on the traditional production of chemical molecules. It does not cover innovative and futuristic research and development areas. Extending the PLI scheme to emerging and promising new areas in R&D can bring down healthcare and hospitalisation costs significantly.
"Introducing schemes and incentives for companies that manufacture lipid ingredients will go a long way in ensuring manufacturers get the support they need in developing this technology further and bringing it to market. Allocation of funds for research and development of transformational technologies and novel drug delivery (NDDS), drugs and biologics delivery, targeted drug delivery, and nanotechnology-based therapeutics, will open new opportunities for academia and industry alike," said Arun Kedia.
A promising outlook
The future outlook for nanoparticle drug delivery is promising. Advancements in nanoparticle research will enable enhanced targeting and personalised medicine, allowing for tailored therapies based on individual patient needs. Combination therapies utilising nanoparticles will facilitate the simultaneous delivery of multiple drugs or therapeutic agents, leading to synergistic effects and improved treatment outcomes.
"Clearly, nanoparticles have the potential to provide solutions for today's emerging modalities. For instance, nanoparticle-based delivery of antigens to antigen-specific CD4+ and CD8+ T-cells in the spleen and liver has the potential to inhibit and/or tolerize these cells and stop them from destroying self-tissue. LG nanoparticles (RESOMER polymers) are already showing promising clinical results for the treatment of celiac disease. A similar LG polymer nanoparticle approach is being used to prevent the formation of antibodies against PEGylated drugs and AAV (Adeno-Associated Virus) gene therapy vectors. Cancer immunotherapy is another potential area for future medicines. For example, decorated LG polymer nanoparticles are being investigated to provide personalised medicine to cancer patients," said Dr Tice.
Nanomedicine breakthroughs will certainly revolutionise healthcare, providing innovative treatments for a range of conditions.
"There is a great opportunity for India to take a globally leading role in treatments based on biologics for future medicine. In future, newer treatments will emerge based on the use of novel pharmaceutical ingredients like lipids for treating multiple sclerosis, myasthenia gravis, arthritis, rare diseases, etc. Lipidic delivery can effectively control pandemics and can be a transformative tool of public health management," said Arun Kedia.
Nanoparticles are poised to emerge as a groundbreaking approach, not only as drug delivery vehicles but also as active pharmaceutical ingredients (APIs) themselves. These tiny particles offer tremendous potential for targeted drug delivery, enhanced therapeutic efficacy and precise disease targeting. Moreover, the global market for nanoparticle drug delivery is projected to grow significantly, reaching $123.6 billion by 2025, according to BCC Research. This growth signifies the increasing recognition of nanoparticles' value and their pivotal role in advancing the field of pharmaceuticals.
Ayesha Siddiqui